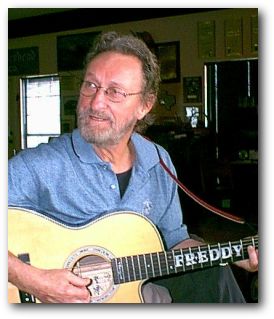 Full Name: Fredrick Dale Powers
(prefers "Freddy")
Instrument: Guitar
Major Musical Influuences: Django Reinhardt, Paul Buskirk & Floyd Tillman



Album Credits:
Co-produced, sang & played guitar on Willie Nelson's platinum album, "Somewhere Over the Rainbow".
Co-produced & played on Merle Haggard's pop album "Cry Me A River".
Featured artist on the Lin & Kliff Story Collection (Bear Family Records) - "Do You Remember", "Loser", "Wasted Love" & "Chapel of My Heart"
Album Releases:
"Country Jazz Singer", "Hottest Thing In Town", "Silver Eagle" & many more